Other Spa Tips
Traveling Essential for Every Woman
18 Jul 2016
Dewi Sri Spa
For holiday or business trip, every woman should have their must bring items list. What are those seven things should be brought in your every trip? Check this out. ...
Read More >>
5 Treatment Before Eid Al-Fitr
29 Jun 2016
Dewi Sri Spa
There is nothing wrong if you want to welcome Eid Al-Fitr with doing some treatment to look more beautiful. In fact, you have to look fresh in this holy day as represent that you back to the new you. These are five treatment you can do. ...
Read More >>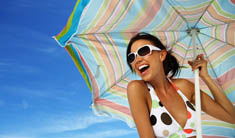 5 Skin Protection Against UV Light
29 Jul 2015
Dewi Sri Spa
Just like the face skin, skin of our body also needs protection to keep it shines and healthy, especially protection from UV light. Unwittingly, sun exposure that consists ultraviolet will cause damage, from dry skin, irritation, sun burn, and in the highest level, it triggers skin cancer. Do these 5 things to protect your skin from UV light: ...
Read More >>