5 Skin Protection Against UV Light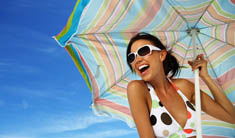 Just like the face skin, skin of our body also needs protection to keep it shines and healthy, especially protection from UV light. Unwittingly, sun exposure that consists ultraviolet will cause damage, from dry skin, irritation, sun burn, and in the highest level, it triggers skin cancer. Do these 5 things to protect your skin from UV light:


Long Sleeve Matters
When the day feels so stinging and hot, some people might feel a long sleeve outfit will be torment. In fact, long sleeve will protect the skin from direct sunlight. As an alternative styling, choose simple long sleeve top with edgy necklace and mix it with one tone pencil pant to get a modern and chic look.
Glass of Green Tea
Based on research from University of Wisconsin,
Epigallocatechin gallatem could stop genetic damage in human skin caused by UV light over exposure. Epigallocatechin gallatem (EGCG) is a compound that generally contained in green tea leaf that can inhibit skin cancer cell growth. Green tea also contains antioxidant that gives benefit to skin.
Vitamin E
Vitamin E believed to protect the skin youth. Not only to prevent skin damage caused by have free radical and pollution, but also the bad impact of UV light. That is why, consume vitamin E that you can get from broccoli, mung bean, and soybean is good to keep the skin health.
Have No Doubt in Umbrella
You know, umbrella will not only protect you from rain, but also protect your skin from direct sun light. So, from now on, have no doubt to bring umbrella although it's a sunny day, because it will gives protection to your skin.
Use SPF Lotion
Last but not least, don't forget to use SPF lotion. SPF or Sun Protection Factor is a measurement to determine the skin protection level in one product towards sun UV light. The usage of sun protection lotion like Dewi Sri Spa Sun Protection Lotion especially while you're doing your outdoor activity will give an optimum protection from bad impact of sun light. Dewi Sri Spa Sup Protection Lotion not only contain of SPF 40, but also licorice that effective to reduce skin irritation.
Love this product ? Yes
822 People love this