Not every one get so easy when first time in spa. You might feel embarrassed at having to take off your clothes and let the spa therapist perform the treatments. However, this is a natural thing that happens to everyone on their first time. ...
Read More >>
Before and after treatment at the spa, it's important to drink plenty of water. Drinking water make the muscle giving out better responses while you are having a massage. So the massage results will be more visible. ...
Read More >>
Other News
Special Holiday For Dewi Sri Spa's Loyal Custumers
10 Jan 2014
Dewi Sri Spa
Bintan-Batam Wellness Holiday is a program held by Dewi Sri Spa especially for its loyal customers who has successfully collect the highest point for the periode of April to July 2013. And last 27-29 September, 2013 ago, Dewi Sri Spa took 25 persons of its loyal customers for amazing holiday to Bintan-Batam island. ...
Read More >>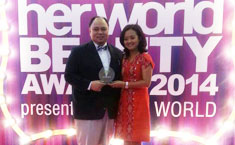 Dewi Sri Spa Received Awards from Singapore Media
19 Feb 2014
Dewi Sri Spa
Dewi Sri Spa, as one of premium spa product from Martha Tilaar Group, always commit to give the best for all spa connoisseurs. Create with the best quality of ingredients and fresh fragrance, Dewi Sri Spa wants to make sure that all the spa lovers can feel the luxurious spa sensation, yet affordable. And for this quality, Dewi Sri Spa feel honor to get prestigious awards from two prestigious media ...
Read More >>
At Spa for the First Time
07 Aug 2012
Dewi Sri Spa
Not every one get so easy when first time in spa. You might feel embarrassed at having to take off your clothes and let the spa therapist perform the treatments. However, this is a natural thing that happens to everyone on their first time. ...
Read More >>